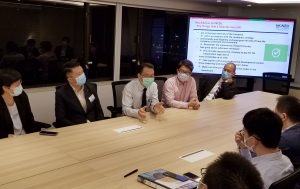 "New Economy Training Course" will be held online on August 8, 15, 22, and 29.
In view of the recent large-scale outbreak of the COVID-19 in Hong Kong, after careful consideration, the new round of "New Economy Training Course" will make the following arrangements:
All 4 classes will be conducted online through ZOOM
A special one-time 50+% discount will be provided, and each full-day online class only needs HKD 1,000.
All professionals are welcome to participate in this new series of new economic classes organized by the Big Data Elite Asia to prepare you for business in the New Economy era.
The course is specially designed for senior managers of the board of directors or managers who aim to work on the Board.
Professional certificates will be issued along with 7-hours CPD.
The star-rated training team has rich experience in the New Economy and can share their knowledge and help you networking.
The course will be conducted in Chinese (Cantonese/Mandarin) with English materials.
We sincerely invite you to learn and communicate with our professionals! ! !
◢

Date: August 8, 15, 22, 29
◢

Time: 9:30-17:30
◢

Media: Fully held online using ZOOM, not affected by the epidemic.